Martin Cray & Co, a leading Brighton law firm, approached us in 2015 to take on their digital marketing strategy. The company saw low conversion rates with their PPC campaigns and so they engaged us to bring these back up to acceptable levels.
It wasn't as simple as modifying their campaigns. It would first require a brand new website to maximize conversions, a reliable way of tracking advert performance and an ongoing commitment to the improvement of the site.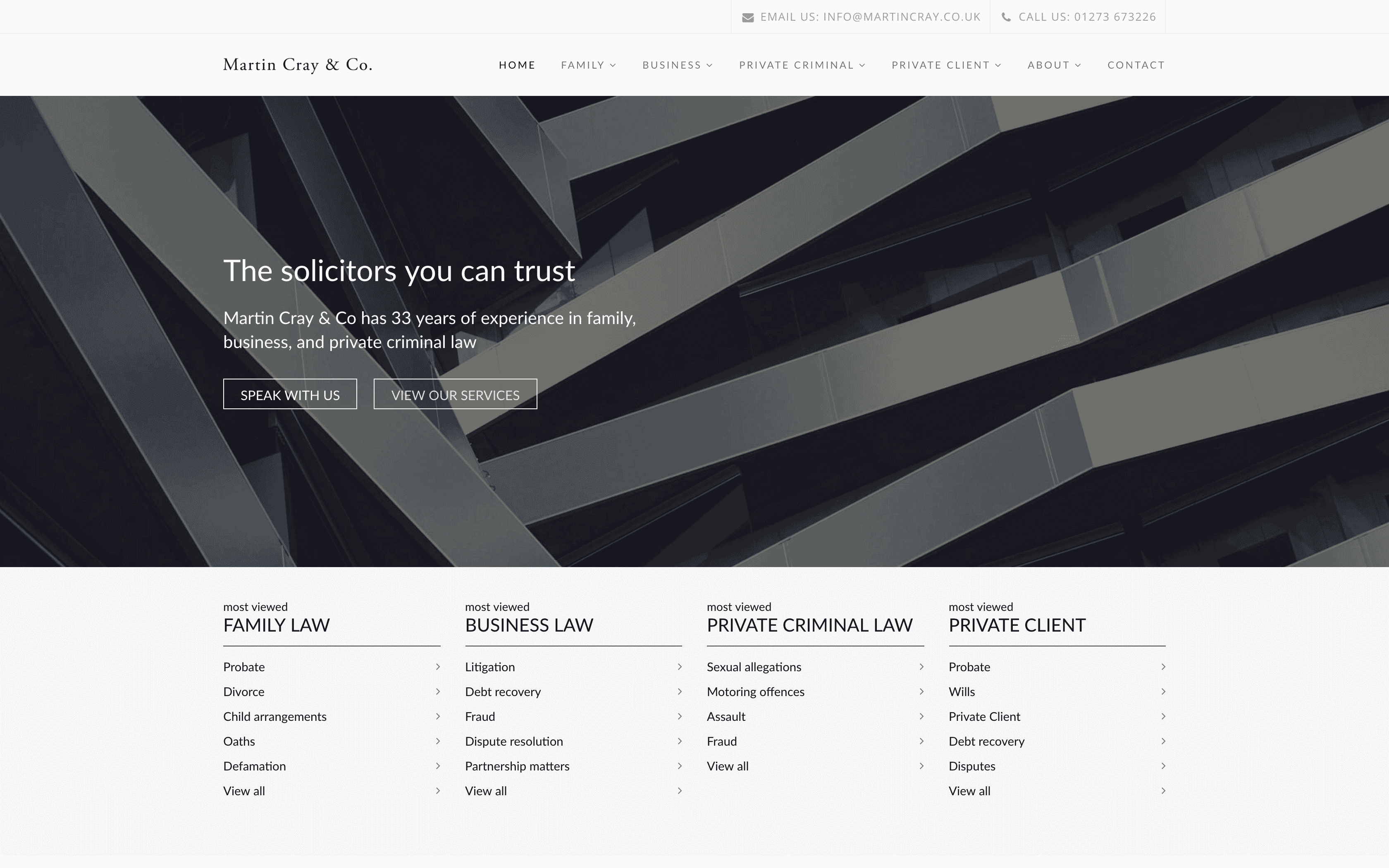 A complete overhaul with conversions in mind
For our marketing efforts to reach its full potential, we first needed to redesign the site to better suit its purpose – attracting the perfect clients and presenting the company in a professional, consistent manner.
Understanding the importance of accommodating for the UK's majority audience, the design took a mobile-first approach. We went beyond standard responsive design, we crafted mobile-specific layouts to ensure content was fully optimised for smaller screens. This attention to detail increased usability and will ultimately lead to an increase in enquiries from users on mobile devices.
Imagery was sourced and licensed for commercial use on the site. The images we selected were natural and scenic, chosen for their use of calming and neutral tones. In an industry where cliché images of prison cells, handcuffs and dusty books are in abundance, it was crucial that the site's visuals stood out and didn't further distress those in the course of legal action.
Forever improving
We've created in-depth Google Analytics goals that can track the number of people who view a phone number, click an email address or fill in a form. We can then tie this tracking information to our Adwords campaigns to determine a conversion rate. By quantifying our conversion rate like this, we can monitor which of our marketing strategies offer the best results, further improving those that perform well and reevaluating those that don't.
We're regularly running usability tests to ensure the user experience is fluid and coherent. We monitor user sessions to discover user frustrations, using this information to improve the site's design. Doing so in this manner reduces the number of people that "drop off" before converting and further increases the percentage visitors that convert into a lead, either by calling, emailing or filling a form.