HairFromHim provides premium-grade hair extensions to customers in the UK and the United States. They were already trading and had an established and loyal customer base but were ready to take things further with a rebrand, strategy and a new website. Their aim was to better serve international customers and to maximize sales in the territories they were already trading.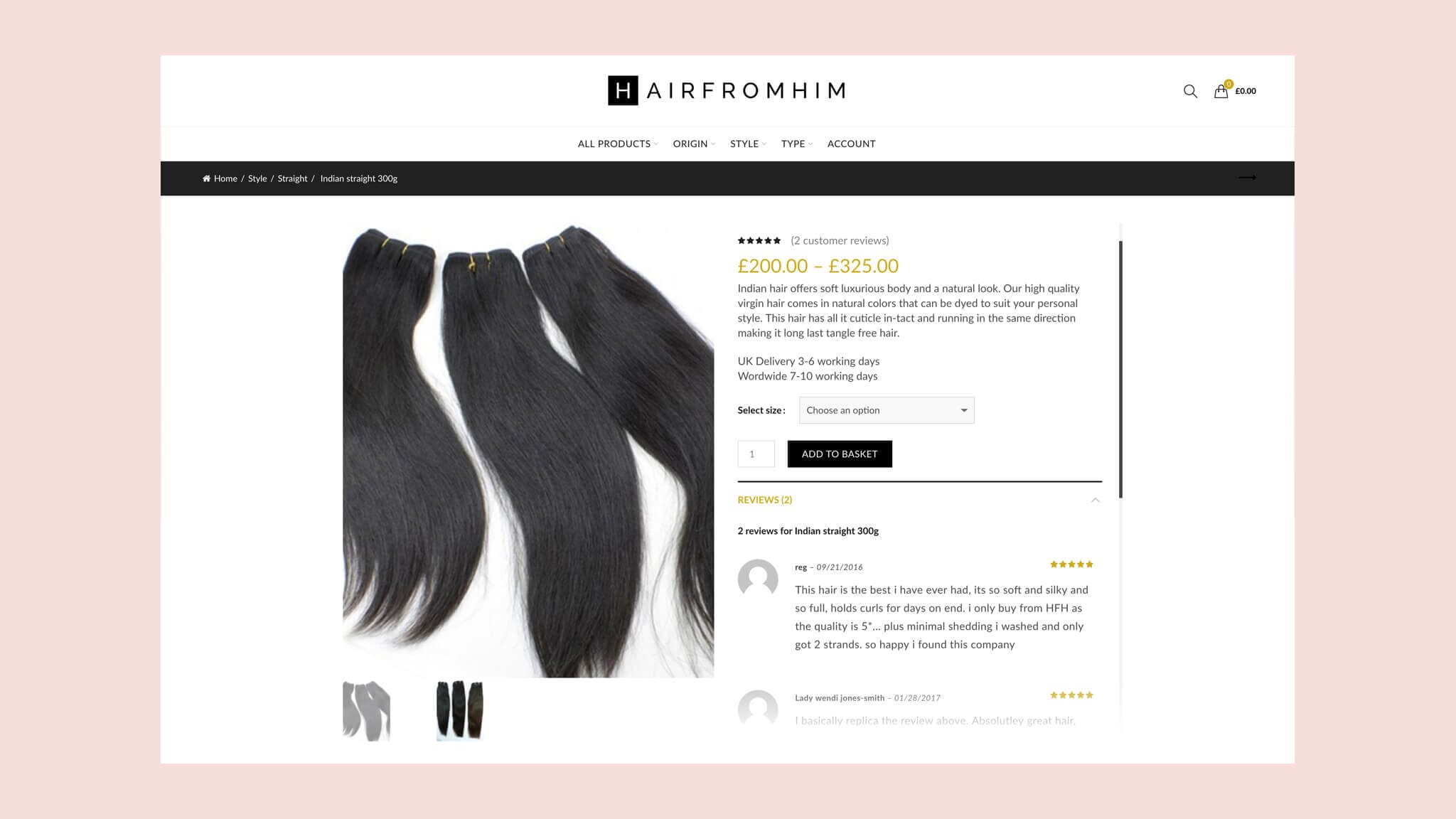 A minimalist rebrand
HairFromHim required a rebrand with minimalist aesthetics. We researched websites, logos and typefaces that other high-end beauty companies had used successfully and put together a series of drafts for the client to choose from. After making a decision, we further developped the idea into the logo that the company uses today.
Based on the finished product, we could then develop the website using similar styles to ensure the user experience was consistent throughout.
"Working with you guys was effortless. After our Skype chat we agreed on everything and a few weeks later our e-commerce store was live! Business is crazy good. I'm excited to see what the future will bring."

Troy Thomas, HairFromHim
A truly global business
A problem we foresaw during the initial planning stages was that most payment gateways deem extensions made from real hair as "high risk products" and therefore prohibit sales of these types through their gateways. This is because these prohibited industries typically see a higher rate of chargebacks from banks than is legally acceptable. Because of this, we spoke with 20 payment gateways until we found suitable provider, and then implement their gateway into the store.
It was crucial that the new store adapted according to the location customers were browsing from. We created an ecommerce system that converted prices from GBP to any local currency using automatically updated conversion rates as provided by Google.
Furthermore, we implemented table rate shipping that would price shipping costs according to the delivery address and the weight of the items in the basket. The system taps into the courier service's database, finds exact pricing and charges accordingly. This ensures that customers are charged fairly and takes the guess work out of delivery charges.
Keeping customers happy and maximising sales
HairFromHim strive to offer the best customer service. We implemented live chat software so that users could speak directly with customer services during office hours. Staff were able to answer questions that if left unanswered, might have otherwise resulted in a lost sale.
We also implemented an affiliate system that would allow the company to provide incentives for influential people and companies within the industry including YouTubers, bloggers and website authors. The system allows the company to set individual affiliate rates by product or account holder to ensure that profits are never compromised when using the affiliate system. The system automatically pays out to affiliates via PayPal when a specific threshold has been reached.