Bristol City Yoga's business was expanding. At a time when they were opening their second Bristol yoga studio, the BCY team felt like they had outgrown their original website. Simple additions or changes to existing content took too long for office staff to make and a growing site that was bursting at the seams became incredibly complex for customers to navigate.
The new site needed to be easy for staff to maintain with integrations into their existing scheduling and class booking software. It had to delight users, providing all of the information they needed in an intuitive and coherent way.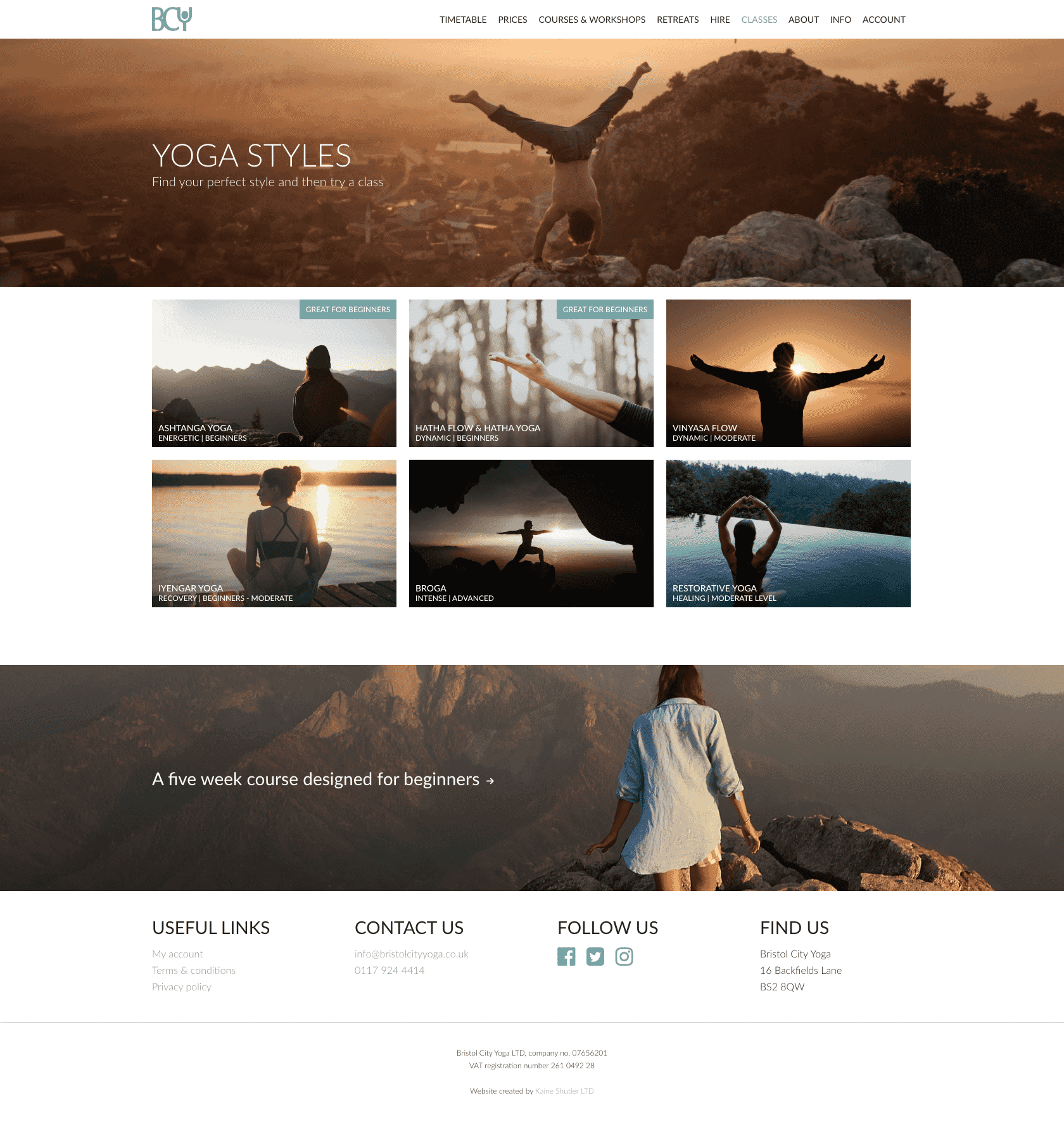 Building a dynamic site that was easy to manage
With ease of content additions and updates being a primary focus of the build, we needed to create a content builder that guided staff through the creation of blog posts, events and retreats.
Built on WordPress, we customised the post editor to ask relevant questions based on the type of content being added. For example, if staff were adding an event, the system asked for event location, date, pricing and teachers attending. The system would then automatically display this on the post so staff didn't have to worry about how to present the information; it just worked.
We love how easy the site is to update, adding events and blog posts takes half of the time it used to. The documentation provided is crystal clear and so training staff up on managing the site has been an incredibly simple process.

Lizzie Packham, Manager
Integration with the company's existing class booking and scheduling software was essential. We created a timetable that featured the events of the next 7 days, automatically pulling classes from the existing schedule. Users could book into these sessions right from the site's homepage.
We designed a dynamic homepage that would automatically update when new content was added. The "hero" slider allowed the client to feature an upcoming event or blog post with a single click. The homepage was so dynamic that it never had to be updated manually; it pulled content from other areas of the site.
It was important that the homepage was a useful resource for their customers and not just a series of links to other pages; it provides the most sought after information including latest events, news and a two day class timetable.
After learning their users behaviour, we noticed that many visitors landed on page other than the home. Because of this, we created a dynamic pre-footer that allowed the client to feature an event or workshop on every page of the site, driving traffic and sales to whatever they decided to promote.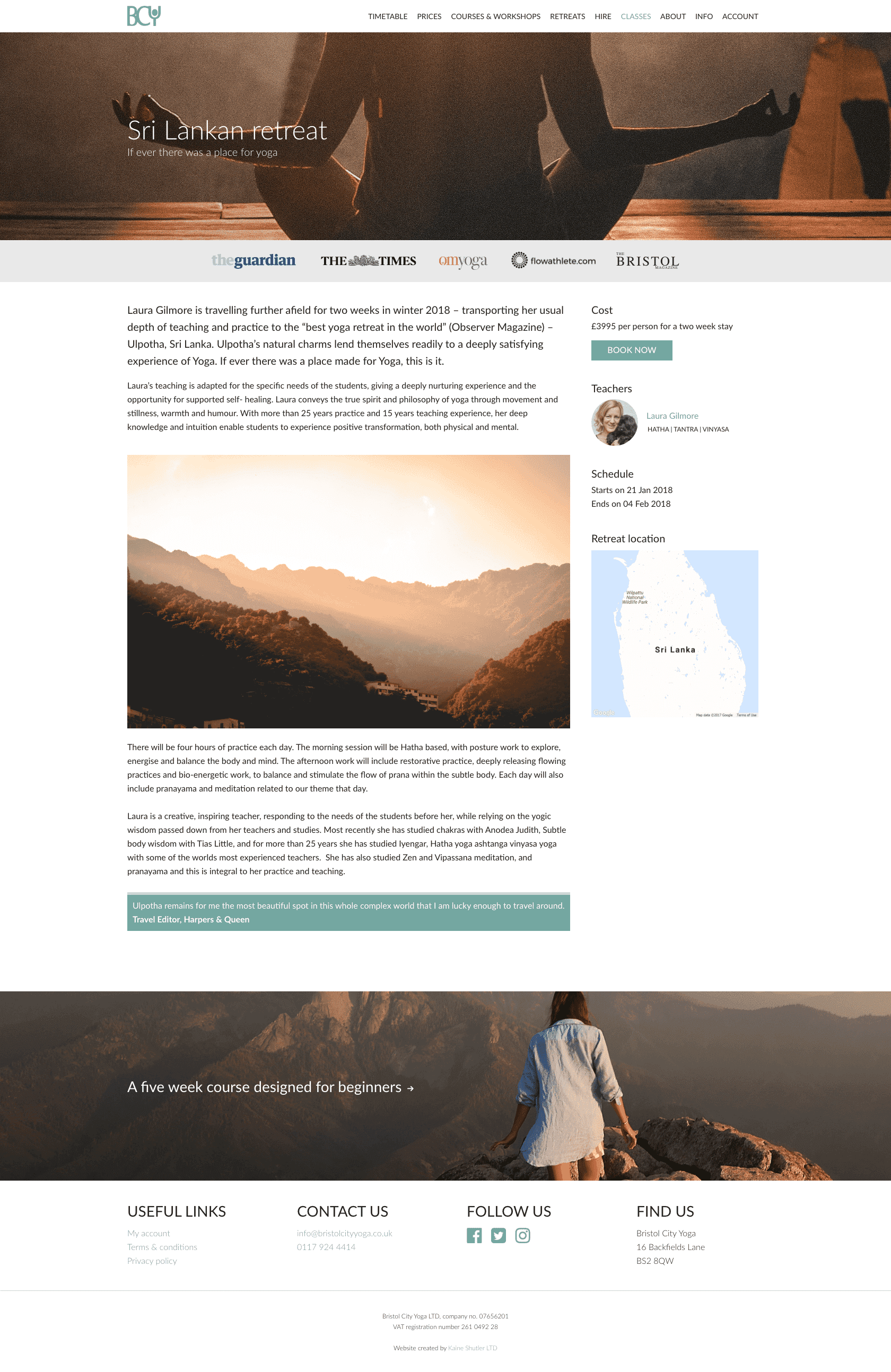 An inclusive experience
Beautifully considered design was an important factor in the development of the site. The design needed needed to feel inclusive to both men and women of all ages and content needed to be structured in a way that would appeal to newbies and experienced yoga goers alike.
To assist with text content, we hired Olivia Jones, a health, fitness and lifestyle copywriter to work closely with Bristol City Yoga.
More visitors, more sales
We're working closely with Bristol City Yoga to ensure the company can gain more customers through search engines. We have developed an SEO strategy and will continue to implement it over the coming months and years to ensure that Bristol City Yoga remain ranking at #1 for relevant terms.
Speed is always at the forefront of our designs. Fast websites means higher Google ranks, better conversions and happier customers. BCY's website scored 90/100 on the Google Page Speed Insights and is reported to be faster than 94% of all websites according to Pingdom. Page load times are usually under 0.3 seconds, much lower than the average 5 seconds.
We're also committed to the ongoing development of the site. We proactively seek out and implement ways to increase traffic and conversions. Additionally, we're always on the lookout for ways to automate tasks that their staff regularly carry out, allowing them to save money and time site management and general administration.